Beg/Int Reformer Pilates
This class is taught by:
Faith loves people and has worked with everyone from 18 year old elite athletes to breast cancer survivors recovering from surgery. Her best match is someone who can have a sense of humor in the face of a difficult challenge. She strives to infuse her classes with safe and challenging exercises whilst maintaining a light and upbeat environment.
Faith believes that ar any age, in any phase of life, we can learn to be more present and feel better in our bodies.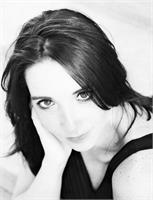 Missoni Lanza has been a practitioner of the Pilates Method since the young age of sixteen. After reading an article in a magazine about the overall improvements Pilates can have on your physical health, Missoni sought out a Pilates studio to try it out for herself. She was instantly hooked and fascinated by the entire Pilates Method and became an avid practitioner. Missoni fully credits Pilates for inspiring a healthier lifestyle, relieving knee and back pain as a result of a head on collision, improving her dynamics and range as a vocalist and living with Scoliosis. "Pilates changed my life, it allowed me to gain a new appreciation and understanding of my body." Inspired by the powerful impact Pilates made on Missoni's life, she decided to become a certified instructor to share the method with others. Since receiving her certification at Pilates Sports Center in Palm Springs, CA, Missoni furthered her education receiving credentials from Stott, Basi, Balanced Body, Franklin Method and Kathy Corey. In 2012, she collaborated with J Lane Fitness to bring fitness and nutritional education to schools to facilitate more movement in children's lives. Missoni's approach to Pilates is creative while following the fundamental roots of the method. She addresses the body in front of her and what the body needs.
This class is designed for anyone who wants to refine the essential principles of Pilates. You can be guaranteed to see more results out of all your workouts when you accurately understand how to activate the deeper layers of the core, align the bones of your spine and pelvis and maintain an active and connected breath.
If you have recently begun practicing Pilates, we recommend you start with this class level. However, even the most advanced students will benefit from mastering the detailed review this class will cover.
Note: If you have no previous Pilates experience and are not familiar with using a reformer you should sign up for an initial private session with one of our instructors prior to taking this class. We offer this at a discounted price of $40.
Upcoming classes: