Int/Adv Reformer Flow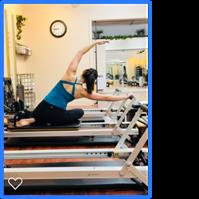 This class will incorporate specialized Pilates workouts incorporating reformers, wall springs, mat and small equipment. All students must be injury free or proficient at making modifications for injury. A thorough understanding of anatomy along with spacial body awareness is required to participate in this class.
Note: This class is for those with significant Pilates experience. Please do not sign up for this class unless you are at the appropriate skill level and have been cleared to take the class by an instructor.
Upcoming classes: