Ellen Liang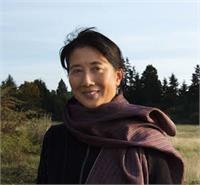 Ellen is guided by the belief that mindful and disciplined movement help us live with ease in our bodies, cultivate equanimity and find freedom from pain and limitations.
She discovered Pilates in 2011, after many years of practicing yoga and then teaching yoga since 2007. Appreciating the complementary nature of both disciplines, she trained and became certified in 2013 at Vitality Pilates in Seattle.
Ellen is constantly searching for more ways to move efficiently, creatively and therapeutically. Helping students attain body awareness, optimal mobility and alignment, regardless of limitations or age, is constantly gratifying.
Always in her mind is this advice from yoga master Angela Farmer: "Think of your body like a house, and live in every room."
When not in a studio, Ellen enjoys hiking, dancing, pickle ball and creating nutritious meals.
Ellen Liang instructs the following:
This class is designed for anyone who wants to refine the essential principles of Pilates. You can be guaranteed to see more results out of all your workouts when you accurately understand how to activate the deeper layers of the core, align the bones of your spine and pelvis and maintain an active and connected breath.

If you have recently begun practicing Pilates, we recommend you start with this class level. However, even the most advanced students will benefit from mastering the detailed review this class will cover.

Note: If you have no previous Pilates experience and are not familiar with using a reformer you should sign up for an initial private session with one of our instructors prior to taking this class. We offer this at a discounted price of $40.




Want to get more of an aerobic challenge with your Pilates practice? Then reserve your spot! This class is a great cardio option utilizing the jump or trampoline apparatus on the Reformer. Class will incorporate the fun and dynamic aspect of the jump board while we take time to focus on proper biomechanics of jumping and landing. Extra care will be given to your feet, ankles and core positioning to help you strengthen your whole body.

Note: This is an advanced class. Please do not sign up for this class unless you have Pilates experience on the Reformer. Please inquire with an instructor if you have any questions.




We will use the Pilates Chair and Mat in this beginner to intermediate class.