Ellen Nixon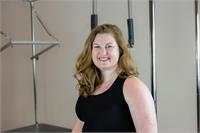 Ellen is a life-time Pilates practitioner, taking her first class over 15-years ago as part of a classical dance program. After leaving the dance world to pursue a desk job fighting hackers, Pilates stayed part of Ellen's daily routine; a necessary way to fend off her terrible office induced posture.
Ellen's passion for the Pilates Method and the community a studio provides encouraged her to become an instructor. Ellen completed her training through the Balance Body Comprehensive Program, but she is inspired by all interpretations of the Pilates Method: from the Masters (Romana, Kathy, and Joe himself!) to contemporary, athletic, and therapeutic uses of the exercise repertoire. Ellen enjoys working with all clients whether athletic, injured, or stuck in an office like her all day!
Outside of the studio and the office, Ellen can be found exploring the PNW on a hike or in a kayak. She is always up for an adventure and can often be spotted in a coffee shop planning her next international excursion!
Ellen Nixon instructs the following:
This class will incorporate specialized Pilates workouts incorporating reformers, wall springs, mat and small equipment. All students must be injury free or proficient at making modifications for injury. A thorough understanding of anatomy along with spacial body awareness is required to participate in this class.

Note: This class is for those with significant Pilates experience. Please do not sign up for this class unless you are at the appropriate skill level and have been cleared to take the class by an instructor.




This class is designed for anyone who wants to refine the essential principles of Pilates. You can be guaranteed to see more results out of all your workouts when you accurately understand how to activate the deeper layers of the core, align the bones of your spine and pelvis and maintain an active and connected breath.

If you have recently begun practicing Pilates, we recommend you start with this class level. However, even the most advanced students will benefit from mastering the detailed review this class will cover.

Note: If you have no previous Pilates experience and are not familiar with using a reformer you should sign up for an initial private session with one of our instructors prior to taking this class. We offer this at a discounted price of $40.